ART BY MIKE

An American Illustrator
Michael Carey
Hello Everybody
I've decided to open my shop up to the public! That's right, now you can see where all the magic happens. What I'm doing is opening up my shop to custom framing. You can bring anything you would like to have framed and together we can come up with some beautiful frame and mat combinations. I'm located in the North Sacramento area right off interstate 80. Call me at 916-705-2652 or email me at mccarey@artbymike.com to set up an appointment.
I have a new original drawing, it's a mountain lion. The problem is I don't have a name for this one so I'm holding a contest to come up with one. I've done this in the past and it's always fun to see the names you come up with. Think of a title for this drawing and click here to email it to me. Come up with as many names as you like, send me 100 names, there's no limit! If I choose the name you submitted you will receive a brand spankin' new 16" X 20" double matted, signed, log framed print absolutely FREE! When submitting a name make sure to include you email address, home address and your phone number. By the way, the photo on the left was professionally done, the one on the right was taken with my phone's camera. I wanted to show you how I cut the matt. I extended the logs out into the matting then drew the grain of the wood on the extensions.
UPDATE ON THE NAME THE DRAWING CONTEST CLICK HERE!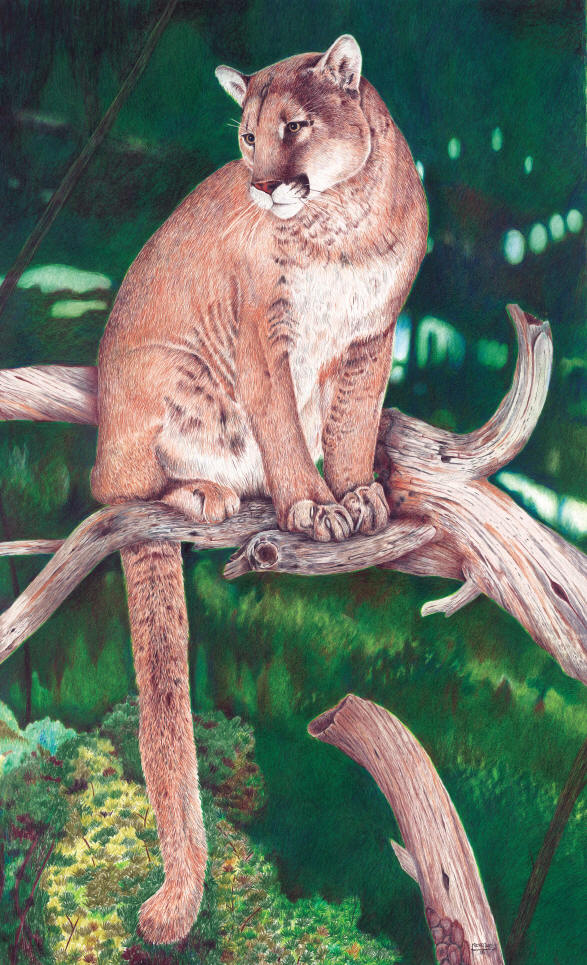 Contact Information
Telephone

1-916-705-2652

Postal address

PO Box 8941 Citrus Heights, CA. 95621

Email me

Information, sales, and webmaster: Click here to email me.
To join my email list and receive a monthly news letter about my shows and new drawings, click here.




Last updated 9 March 2016
* The monthly billing plan is available on purchases of $160.00 or more.
** The free shipping offer does not include framed prints.