Costumes By Jeanne
I wonder how many of you knew that my wife designs and manufactures her own costumes. I would say not to many of you! Jeanne is an amazing costume designer. She has designed everything from costumes based on characters form Sleeping Beauty to Civil War to Renaissance. Below are just a few pictures of some of the costumes she has designed and made.
If you are interested in having a costume designed please use the feedback form to submit any questions.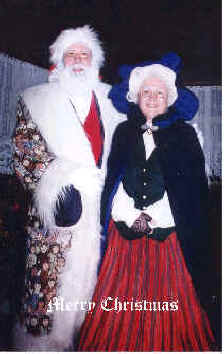 Jeanne and I played Santa and Mrs. Claus for years at a place called High Hill Ranch in an area north of Placerville Ca. known as Apple Hill. Jeanne designed my costume based on an 1800ís version of Father Christmas. The coat I am wearing was made from a tapestry showing faces of children from around the world. The vest and pants are red wool with gold buttons. Jeanneís cloak design is what's called a Kinsale cloak. The cloak is made from dark blue wool with a light blue lining and closed at the neck with an antique clasp. The green wool vest and puffed sleeve blouse she is wearing are also dated from the mid 1800ís.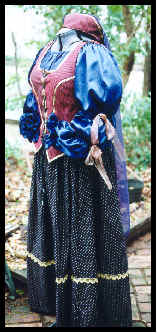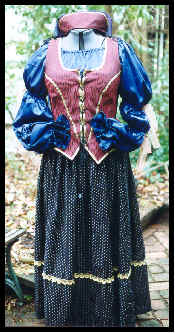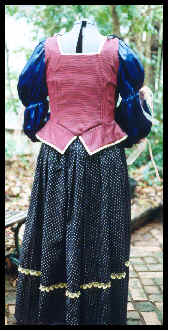 This costume would be great for anyone attending a renaissance faire! The blouse is made of taffeta. The vest is a brocade with gold trim. The skirt is cotton with gold trim.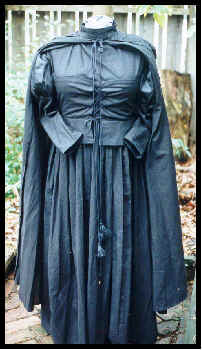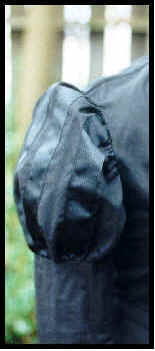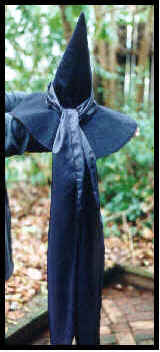 This costume is an exact copy of the outfit worn by Margaret Hamilton as "The Wicked Witch Of The West" in the movie "The Wizard of Oz". The costume is all cotton and completely washable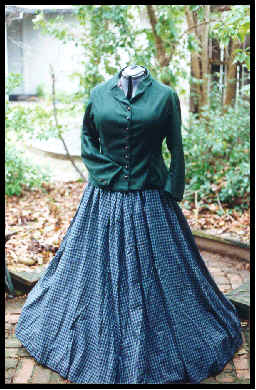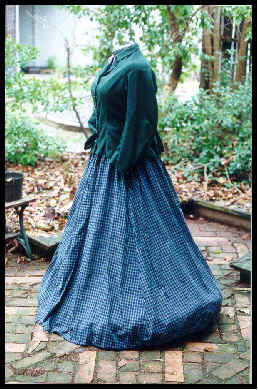 This 1860ís style costume is perfect for any civil war reenactments or any function that requires a costume from the late 1800ís. The riding jacket is wool with black buttons. The skirt is cotton.