Home
Up
Contents
About Me
Wildlife
The Rest Of The World
Americana
Civil War
Where To Shop
Originals
Services
Show Time
Studio News
My Stuff
On The Drawing Board
Price List
Order Form
Favorite Links
Feedback
Search
Send The Site
Videos
"Wrong Door"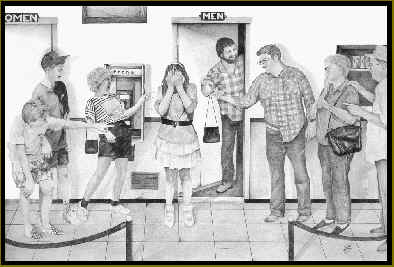 You don't know how many comments I get from this one. Every show I go to I hear stories from people about how they went into the wrong bathroom either by mistake or on purpose. This drawing was completed using members from my family. Starting left to right; Jason and Zach, my nephews; Lindsey, my niece; Nicole, my daughter; Kevin & Mike, brother-in-laws; and Betty & Leonard, my in laws. I took over 300 photos to get just the right poses and expressions. then I put all the pictures together in order in front of me and began drawing. This scene never happened. All the photos were taken over a period of 2 weeks. Not one person in the drawing had any idea what I was up to. In the end it all worked out okay.


For size and price list click here.