Home
Up
Contents
About Me
Wildlife
The Rest Of The World
Americana
Civil War
Where To Shop
Originals
Services
Show Time
Studio News
My Stuff
On The Drawing Board
Price List
Order Form
Favorite Links
Feedback
Search
Send The Site
Videos
"Best Friends"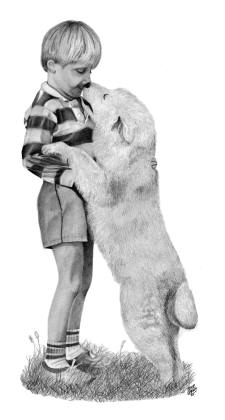 When I was growing up in Fair Oaks, CA. I had a dog named Dudley. He was just a mutt. A cross between a cocker and some other similar dog, but he was my best friend. He would go with me on adventures into the huge field across the street form our house where we would be gone all day. He could run, hunt, dig wherever we wanted him to, and even play baseball (well at least he could catch balls and when he did we would call it an out). This picture was done with my dog in mind. I will never forget him.
For size and price list click here.