Home
Up
Contents
About Me
Wildlife
The Rest Of The World
Americana
Civil War
Where To Shop
Originals
Services
Show Time
Studio News
My Stuff
On The Drawing Board
Price List
Order Form
Favorite Links
Feedback
Search
Send The Site
Videos
"The Santa Catchers"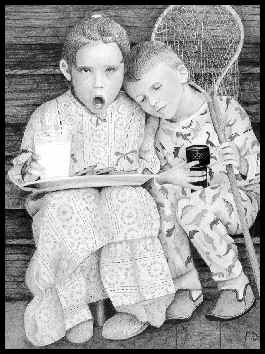 I remember waiting up with my sister to see if we could catch Santa. To be honest with you I'm not sure I recall using a net, but I do remember wanting to catch a glimpse of him. This is one of the most detailed pieces I have done. From the wooden steps in the background right down to the pattern on the girls nightgown, I captured as much detail as I could.





For size and price list click here.